While conventional automobiles have been associated with 12V batteries for the last 70 years, electric vehicles (EVs) use much higher voltage battery systems, enabling them to reap significant benefits—namely, enhanced vehicle performance and energy efficiency.
Electric vehicles convert over 77% of electric energy from the grid to power at the wheel.
Electric motors can accelerate vehicles faster than traditional fuel engines.
As electric vehicles increase in popularity and demand, so too does competition and a need for innovation.
A major obstacle to the broad adoption of electric vehicles involves the capacity of its energy management system for power density and efficiency. Moving from 12V to between 400-800V with electric vehicle battery systems requires power electronics designed for a higher voltage and components that are more malleable.
Silicon carbide (SiC), innovative chip technology that acts as a conduit of energy throughout electric vehicles, is at the heart of next-gen power electronics. SiC power modules enable systems to operate with greater power voltages more reliably and ensure faster charging times. In addition, the chips can handle higher temperatures and can be less than half the size of other silicon devices. Current applications for SiC include onboard chargers, DC/DC converters, traction inverters, LEDs, and EV powertrains.
"We are starting to see more OEMs adopt SiC to stay competitive. With that comes a greater demand for semiconductor experts, specifically around SiC, and expertise in power management systems."

Michael Connelly
WIT VP of Operations
Today, the EV market consumes over half of the SiC used, and it is expected that the EV market for power transistors, SiC MOSFET*, will grow 5x from 2020 through 2025.
Forty percent of all electric vehicles are incorporating SiC MOSFETs in at least one component of power electronics. As the market grows, a niche technology moves into the mainstream and with it the problems of competition and intellectual property claims.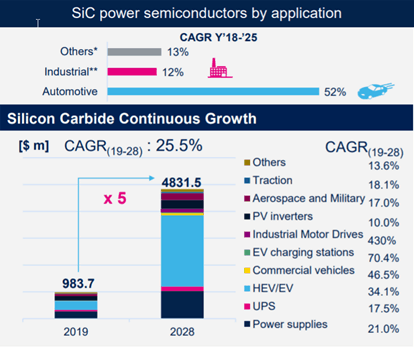 Source: IHS – SiC & GaN Power Semiconductor Report (May 2019), mid case.
Much of the earlier patents are with the early players in the SiC industry, such as Japanese integrators Denso and Fuji Electric and, in China, State Grid Corporation of China (SGCC), CRRC, and SiC pure player foundry, Century Goldray. In Taiwan, ITRI and Hestia Power hold portfolios of note as well.
On the device maker side, Cree/Wolfspeed has developed a considerable patent portfolio with Rohm, Infineon, and STMicroelectronics, all developing their own cross-border intellectual property portfolios.
As the market builds, new entrants and old patent portfolio owners are expected to initiate disputes.
Last year, optoelectronic component maker II-VI Inc., which manufactures silicon carbide substrates, licensed SiC technology from General Electric with intentions of moving into power device and module manufacturing.
Explosive market growth and a group of patent-focused players will inevitably lead to licensing claims, patent disputes, and international litigation. Owing to the rapidity of burgeoning innovation in the use of silicon carbide, expertise from the theory and manufacture of SiC MOSFETS to the design and construction of all switch-mode power supplies used in electric vehicles will be paramount to developing effective litigation strategies.