The Case: A Breach of Contract Conflict Between Two Major Pharmaceutical Companies
The plaintiff, a prominent multinational pharmaceutical corporation, sued another major biopharmaceutical company after violating their agreement to jointly develop a monoclonal antibody used to treat migraines. The plaintiff reneged on the terms of the contract that barred each of the parties from being involved in the manufacturing, development, or commercialization of competing products, and sought to stop the defendant from terminating their collaboration.
The Ask: A Testifying Expert That Understands BLA and Drug Manufacturing
The defendant approached WIT to provide an expert with extensive, hands-on experience with biologics license applications (BLAs) and the role of manufacturing capabilities in BLA reviews. Additionally, they sought someone with a significant understanding of the licensing process for biologics and previous experience working with the FDA.
Why WIT Was Best Suited to Meet the Expert Need
In anticipation of an influx of disputes regarding pharmaceutical manufacturing, WIT has actively recruited and retained world-class academics, industry executives, and subject-matter experts to support clients in life sciences litigation. For this case, WIT was able to recommend an expert with more than 30 years of experience in biologics development who has worked directly with pharmaceutical companies, the FDA, EMA, and more on drug advancement, manufacturing, and licensing. This expert also oversees manufacturing contracts and negotiations for drug approvals, providing them with a deeper understanding of the licensing process and BLA requirements.
The parties involved in this case chose to enter a confidential settlement to resolve the conflict. WIT's affiliate expert received a fantastic review from the retaining party.
The Litigation Landscape: Drug Manufacturing Disputes
In this matter, the defendant countersued the plaintiff after it was found that an affiliate company owned by the same parent corporation entered into a contract manufacturing agreement to create an allegedly competing migraine drug. This case may have been settled out of court, but similar types of disputes are likely to arise as competition intensifies among drug manufacturers in a race to develop more generic drugs.
In fact, the popularity of generic pharmaceuticals has increased year over year, despite a small dip during COVID-19 on account of supply chain disruptions. Specifically, the global generic pharmaceuticals contract manufacturing size is expected to grow at a compound annual growth rate of 5.8% from 2022 to 2030.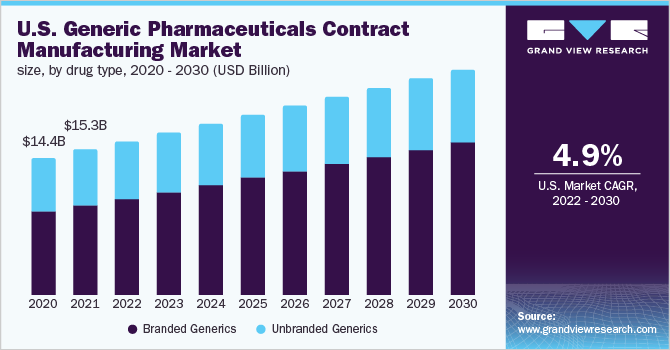 This steady growth can be attributed to an increasing number of government initiatives that support the promotion of generics, as well as impending patent cliffs set to remove exclusivity from blockbuster drugs. These shifts provide more opportunities for manufacturers to launch generic versions of products and support the generic industry's ongoing expansion.
Further, regulatory authorities like the FDA are moving to improve access to generic drugs through research grants and federal programs. Initiatives like these will widely improve the production of generics which in turn will balloon the demand for the manufacturers needed to create them. As told by Evaluate Pharma, prescription generic drug sales accounted for $74.0 billion in 2020, and are projected to reach $99.0 billion by 2026. This increase will push the industry to improve generic production, directly increasing the demand for contract manufacturing.
How Experts Can Assist in Drug Manufacturing Cases
As shown in this case, contract manufacturing can cause serious complications when entering a collaboration with another company if the contract is not properly evaluated and explained prior to entering the agreement. And if contract manufacturing efforts ramp up as projected, many companies involved in the creation of biologics will have to reevaluate their partnerships and ensure that their affiliates are not operating in any arena that would create industry competition.
Engaging with industry experts in the pharmaceutical space would help parties understand the development, manufacturing, and commercialization of biologics. They can also explain the nuances of the effects of specific products and how they may compete with similar pharmaceuticals in the market. At WIT, we understand that innovation in the pharmaceutical industry has a widespread impact that ignites competition and drives conflict in the space. That's why we have created multidisciplinary teams of pharmaceutical experts with years of consulting and testifying experience who are prepared to provide insights relevant to any complex conflict regarding biologics, manufacturing contracts, and more.
For more information about how WIT can help inform your litigation strategy and to learn more about our expert teams in other areas of focus within life sciences, contact us to discuss your expert witness needs. Follow us on LinkedIn and Twitter to stay up-to-date on our latest insights.