The realization of greenhouse gas effects on climate and health has created an uptick in new technologies and opportunities. Given that light vehicles, passenger cars, and light trucks make up nearly 30% of all U.S. greenhouse gas emissions, the push for electric vehicles has been greater than ever.
The electric vehicles (EV) market is projected to grow at a CAGR of 29% worldwide within the next decade, rising from approximately 8.5 million to 116 million units [1]. Acceleration in the U.S. may be triggered by the passage of The American Jobs Plan which includes $174 billion for EV investments, including chargers and vehicle purchase incentives. Recently, the White House highlighted more than a dozen programs with $41.9 billion in federal grant funding available now, which could be applied to EV infrastructure buildout, including their plan to build a national network of 500,000 charging stations.
The global EV market currently is worth $250 billion based on a 2020 analysis by Fortune Business Insights [2]. It is expected to grow to $985.7 billion by 2027, attributed to the market's demand and growth post-pandemic. With the current battery-EV (BEV) making up only 1.8% of the global vehicle market, many major automobile manufacturers have ramped up R&D in hopes of gaining popularity and the evolving market share.
Within the next ten years, we anticipate that market value will shift strongly from the vehicles themselves to the software being used in the vehicles.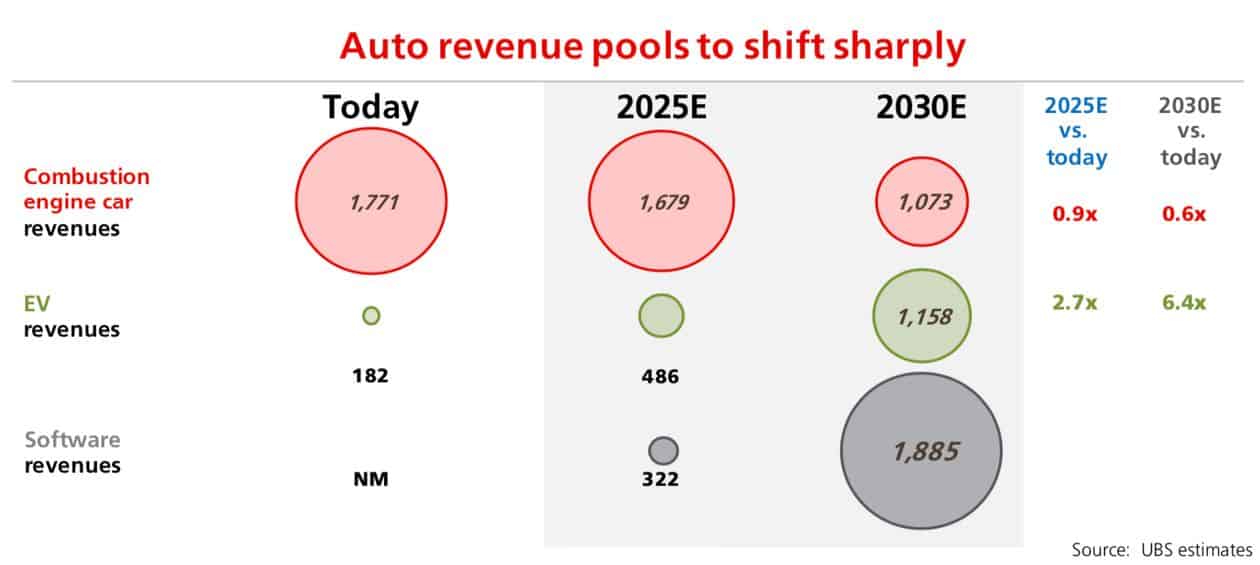 The increasing value of electric vehicles is driving investment dollars and a crowded field of players. In 2020 alone, $28 billion was invested in public and private EV companies, according to data from CB Insights and Dow Jones Market Data Group [3]. While Tesla is one of the leading EV manufacturers and developers in the world, many current automobile manufacturers and new start-ups have entered the playing field. BMW, Porsche, Jaguar, Audi, Nissan, Toyota, Volkswagen, General Motors, and Ford have all released their EV line. With manufacturing infrastructure in place, these companies have been able to churn out some variation of electric cars, whether hybrid or purely battery operated. The Volkswagen Group, the owner of several German luxury automobile manufacturers, is investing a transformative $34 billion over the next five years to convert to electric or hybrid versions of all vehicles in its lineup. However, Tesla remains the leader and the world's most valuable automaker ($210 billion), holding almost a quarter of the EV market worldwide.
New entrants have risen as start-ups with large investors hoping to get a stake earlier on. China being the world's largest market for EV sales, has seen the rise of unicorns Nio, Xpeng, and Li Auto, who have raised a combined $3.6 billion through IPOs in 2019 [5]. Hyliion, founded in 2015, is a sustainability-focused transportation company that develops a powertrain tech and battery solution aimed at making EV affordable and accessible. Lucid Motors is another company focused on combining sustainability with luxury. Lucid, who recently went public through a SPAC merger, is developing high-tech cars that enable voice control, cutting-edge GPS technology, and a whopping 0-60 miles per hour in 2.5 seconds.
Along with many new EV companies, Apple, Alibaba, Baidu, and others have expressed interest. They are developing operating systems or design and building the EV required hardware. Still, what makes Tesla so unique in this space is primarily its software-based technology [4].
Electric vehicle components will drive market leadership.
EV advancement requires developing cutting-edge software on cutting-edge hardware. This allows cars to be improved over software iterations and downloaded onto already made automobiles. Advanced software can provide safe, secure, smart, and connected systems. The cars can utilize camera vision to determine roads, signals/signs, environment, pedestrians, and other vehicles in real-time. Given the fast computational speed and a data-driven approach, the cars can adapt and evolve. In addition, these software technologies pave the way for "self-driving" cars—cars that can adapt and respond instantaneously to the dynamic nature of the world. This, however, is no easy task and requires advanced processing of sensor information (camera or lidar) to determine the correct course of action. Such sophisticated technology opens up the need for machine learning and artificial intelligence, fast computational processing, and robust sensors and algorithms.
In addition to the software is the challenge of providing a lasting battery. The battery generally is the heaviest and most expensive component of electric vehicles. The type of battery and the charging infrastructure needed during long hauls will determine the range and convenience of recharging. These challenges have been addressed through battery engineering, with faster and lasting lithium-ion and hydrogen fuel cells but create concerns over supply chain over time.
Technology innovation creates opportunities, including litigation.
The need for these technologies increases R&D in many fields—namely, computer vision, machine learning, computer processors, data processing, battery chemistry, battery design, and power transmission. The more competition that emerges, the farther the reach is into these different fields.
As the electric vehicles market size grows, the need for several advancements will create more opportunities in engineering and technology. Based on our experience, we anticipate a wave of litigation aimed at leveling the playing field. From claims of infringement and theft of trade secrets to antitrust matters targeting automotive IP holders, the breadth of legal disputes, we believe, will happen in areas related to the components for the battery and charging system, power train and controllers, and self-driving software and sensors. Litigation strategies aimed at essential EV components will necessitate expert witness support on a wide range of complex issues germane to market dominance. The experts to best address issues can understand specific electric vehicle technologies, explain industry practices and policies, and matters that involve high-level technology standards and damages analyses.
In our next series of articles, we will dive deeper into electric vehicle parts and its integrated technology and discuss the players and the challenges each component faces.