The rise of biosimilars is transforming the pharmaceutical landscape, and Big Pharma is keenly aware that the fate of their blockbuster biologic drugs' exclusivity is at stake. These drugs, which have been stalwarts of their revenue streams for years, are now facing the approaching storm of biosimilars entering the market. With the impending expiration of several major biologic drug patents in 2023, pharmaceutical companies find themselves at a critical crossroads, requiring deft navigation of patent thickets and the expertise to argue on both sides of the courtroom.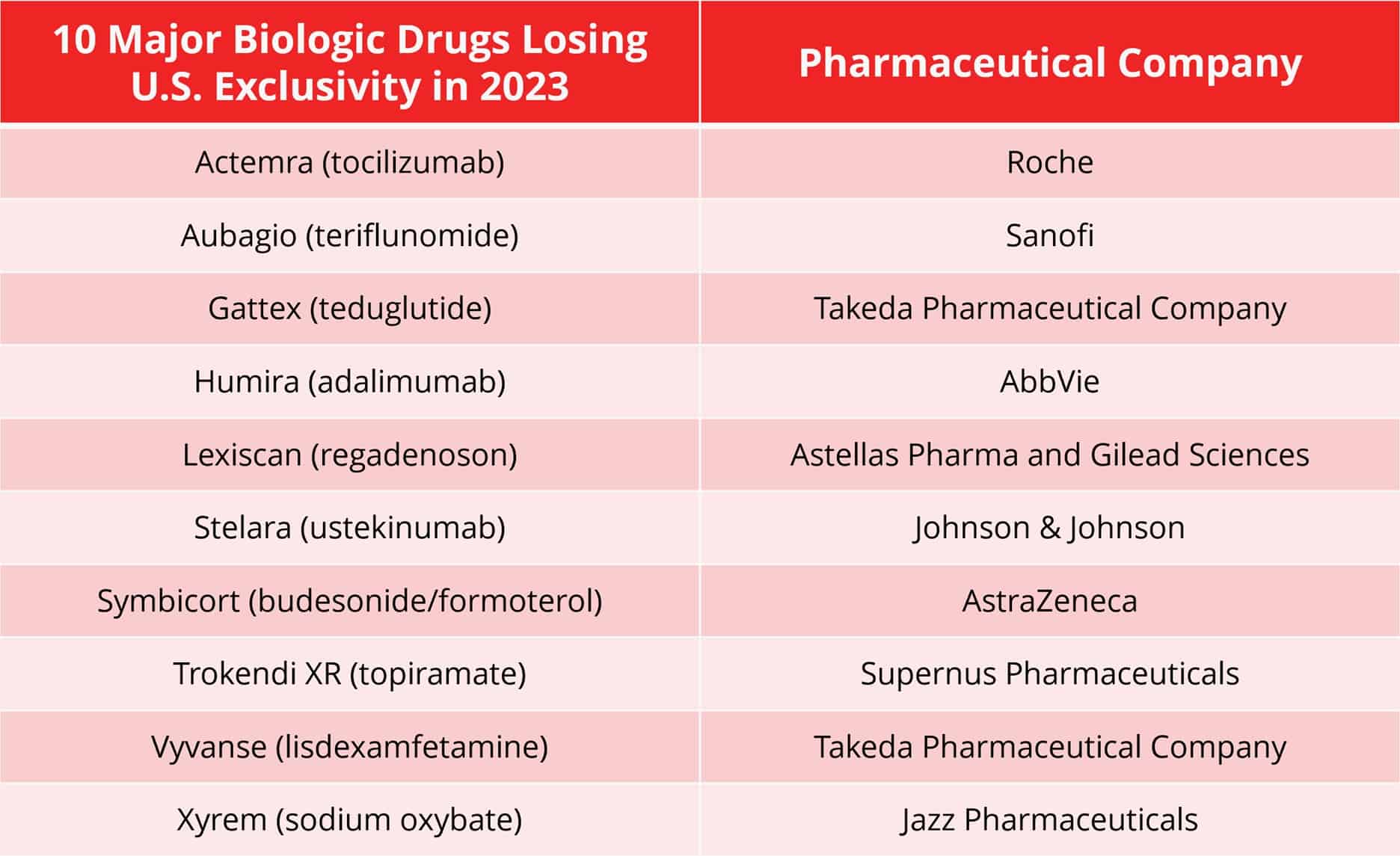 AbbVie, the manufacturer of Humira®, is the first of many to face formidable competition for their biologic drug as the first Humira® biosimilar, AmjevitaTM (adalimumab-atto), entered the market at the beginning of 2023. The ripple effect of this launch is expected to be profound, with at least seven more Humira® biosimilars anticipated to launch throughout the year. AbbVie's forecast of a 37% drop in Humira sales in 2023 underscores the gravity of the situation for Big Pharma companies facing similar challenges.
Patent thickets have long been an essential tool in Big Pharma's arsenal to ensure an extended period of exclusivity for their biologic drugs. By securing a web of overlapping patents, they could discourage or delay generic manufacturers or biosimilar developers from entering the market.
However, pharmaceutical companies can walk a fine line between protecting their biologics and fostering the competitive landscape that biosimilars bring. As the biosimilars market gains momentum, some big pharma companies have astutely positioned themselves as major players in this burgeoning sector. While they prepare biosimilars of competitors' biologic drugs for launch, they are simultaneously tasked with protecting the IP of their own biologic drugs. This multi-dimensional legal battle necessitates the expertise of skilled IP attorneys and patent strategists who can argue persuasively on both fronts.
Additionally, to mitigate protracted legal conflicts and foster early entry into the biosimilars market, some pharmaceutical companies have turned to negotiated patent litigation settlements. For example, Johnson & Johnson recently inked a settlement with Amgen concerning J&J's top-selling drug, Stelara—set to expire later this year—that pushed the launch of Amgen's biosimilar of the J&J drug to January 2025. Interestingly, while Amgen argued on the side of their Stelara biosimilar in their negotiations with J&J, the pharma company will undoubtedly take the opposite approach against the competition when one of their blockbuster drugs loses exclusivity in just two years.
The stakes are high for Big Pharma, given the exponential growth projected for the biosimilars market. Estimated to be worth $29.4 billion in 2023, it is set to reach $66.9 billion by 2028. Failure to adeptly navigate these turbulent waters could result in significant market share losses and a diminished ability to capitalize on the biosimilars' potential to enhance patient access and drive down healthcare costs—a focus of the Biden administration as part of the Inflation Reduction Act.
Biosimilar patent cases are complex legal battles that require the support of various experts to bolster the nuanced arguments presented by pharmaceutical companies. These experts are highly credentialled academics, scientists, former regulators, and industry veterans who possess specialized knowledge and skills in their respective fields. They include:
Pharmaceutical industry executives who understand business strategy and can provide insights into market impact, the competitive landscape, patent portfolios, regulatory processes, development and manufacturing, and commercial considerations.
Formulation experts can review prior art and scientific literature to assess the novelty and inventiveness of a claimed formulation. They can also analyze drug composition and manufacturing processes to identify variations in the methods used.
Clinical experts, including medical doctors and researchers, provide insights into the safety and efficacy of both biologic drugs and biosimilars. They may compare clinical trial data and assess potential differences or similarities between the two products.
Pharmacologists can analyze and provide insight into pharmacokinetics, pharmacodynamics, therapeutic equivalence, safety, efficacy, and mechanisms of action. They can also assess the impact of biosimilars on patient safety and healthcare outcomes.
Regulatory experts like former FDA officers who understand or oversaw drug approvals for many drugs can assess compliance, biosimilarity, and exclusivities, analyze labeling and interactions with regulatory authorities, and provide data for economic arguments.
Pharmacoeconomists can analyze the cost-effectiveness and value of biosimilars compared to their reference biologics. Their studies and reports provide data on cost savings and potential healthcare benefits of adopting biosimilars.
Pharmaceutical companies can present comprehensive and compelling arguments in biosimilar patent cases by assembling a multidisciplinary team of experts. These experts contribute their specialized knowledge to strengthen legal positions protecting IP and contribute to biosimilar development and market entry success.
Learn more about our teams of pharmaceutical experts who are former regulators, skilled medical professionals, highly credentialed academics, scientists, and pharma industry insiders. Contact us to learn how our testifying experts can support your case.