Last year, we saw the wireless communications market undergo a massive shift as the deployment of the c-band 5G spectrum became widespread. With this new spectrum came an entirely new era of connectivity, opening the door to faster connections supported by lower latency, higher speeds, and increased capacity. Improvements to incumbent broadband connections directly impact the capabilities of newer wireless services, and one in particular is making its way into 2023's wireless industry conversations. Fixed wireless access (FWA) connections are now capable of competing with traditional fixed and mobile broadband providers, giving it the potential to shake up the market as we know it.
The pandemic showed us just how essential stable wireless connections can be. More of life than ever takes place in the digital realm, making a myriad of opportunities only available online. This alienates almost 37% of the world's population that has no internet access, hindering overall societal and economic growth. FWA technology aims to bridge the digital divide for those not covered by current connectivity capabilities, and recent improvements in the spectrum can support this goal. But with new FWA players entering the arena and discussions around this technology ramping up, we see the potential for legal disputes on a variety of fronts. Let's take a quick look at the FWA landscape and where litigation may lie.
FWA by the Numbers
While FWA technology isn't new, the underlying innovation that will now allow it to thrive is. Before 5G, FWA was limited; now, 5G FWA has an expansive reach, providing high-speed connections to those in digital deserts. The global market is expected to be valued at close to $30 billion in 2023 and is projected to rise to $153 billion by 2028 with a CAGR of 39%.
Connections were previously provided by wireless internet service providers (WISPs), but now major telecoms are entering the space with their strategies that involve different types of spectrum and deployments. With these new entries, the market is projected to continue growing at an exponential rate, creating competition with the cable industry as its growth became stagnant at the end of last year. The chart below shows the number of service providers offering FWA around the globe.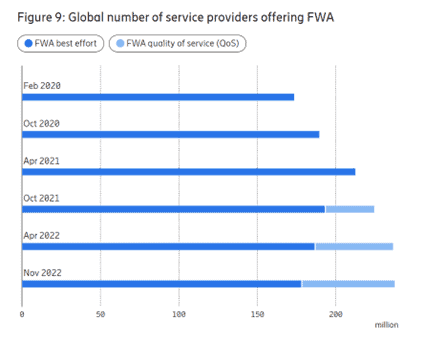 According to WIT IP Advisory Panel Member and wireless expert Muriel Medard, there are lots of different technologies that could support FWA; the question is at what price. FWA can thrive in locations where implementing fiber infrastructure is more difficult (like in the aforementioned digital deserts), but it might not be economically viable in other regions where fiber infrastructure already exists as there is a sunk cost associated with its implementation. She explained, "FWA improvements will definitely increase competition, at least in certain markets. But when it comes to how much, I can't tell because it becomes really more of an economic issue. It's not one of those things where you go, 'this specific technology is clearly superior and so much cheaper' because there is no clear option that is faster and cheaper for everyone."
Overall, Medard feels that competition will become very regional as the playing field continues to level out and more operators enter the space. Expansion is only going to continue, especially as Verizon, T-Mobile, and AT&T are moving to ramp up their FWA offerings. Last year, T-Mobile's Chief Network Officer declared that "the time has come" for FWA, and the company is targeting close to 8 million subscribers in the next five years, up from 1.7 million between Q4 2021 and Q3 2022.
The introduction of telecoms to the FWA space will undoubtedly increase competition, and potentially alter the way consumers interact with wireless connections. By the end of 2022, there will be more than 100 million FWA connections, and that is projected to triple by the end of 2028 with over 80% being 5G FWA connections. And with high levels of growth comes a high level of conflict, meaning that as this technology grows, so will the need for experts who are familiar with the space.
Potential for Litigation
Even though those in the industry claim that FWA technology doesn't currently present a threat to legacy broadband providers, there is still room for potential conflicts to arise, especially when patents come into play. We already know that wireless patents create copious opportunities for legal conflict, and this area is no exception as patents covering wireless terminals, wireless scanning technology, microchips, and more will be at the forefront of wider FWA rollouts. There will also likely be a slew of new patents entering the arena as providers attempt to improve infrastructure and provide the ability to connect to FWA regardless of transmission distance or environmental factors.
According to Medard, there will also be IP battles around antenna beams. She explained, "There's been a lot of improvements around doing what's called 'beam forming', which involves antennas creating beams that will align and focus on a particular location. And one of the big technological advances involves using mathematical preprocessing to point the antennas, rather than having to do it manually."
Beam forming will allow for better connections despite obstacles, and there has already been litigation around this technology. Medard highlighted that this has been some of the most important IP in the space thus far, which opens the door to a myriad of conflicts as frequencies go up.
The possibility for mergers and partnerships remains, as in traditional wireless environments, with legacy broadband providers looking to enter the space without creating proprietary technology. Many players in fiber like Frontier and Lumen Technologies don't offer mobile services and many mobile players don't have a large enough fiber footprint. We anticipate mergers or partnerships will occur between software providers, hardware creators, and leading system manufacturers to push forward the development of this technology.
Lastly, as with any wireless connection, security remains a concern. With FWA technology bringing more people online than ever, it is important to implement proper consumer protections to prevent hacks and create a secure network.
Even though this technology is just now starting to make bigger waves in the wireless space, it has long been at the forefront of major wireless players' minds. In order to stay ahead of the curve when it comes to this evolving connection, it's important to engage with subject matter experts early to prepare for a potential industry shift.
Want more insights on what's to come in wireless networks? Reach out to WIT for the best experts to inform your litigation strategy. Our expert teams were created to address what we expect to be the key areas of litigation in emerging technologies, like 5G/6G and FWA. Follow us to stay up-to-date on what is to come in the future of the wireless industry, and contact us to learn more about our partner briefings.