Consumer demand for personalized healthcare has fueled the rapid growth of digital health technology, leading to intense competition among industry players and an increased potential for legal disputes. In this dynamic landscape, wearable and connected medical devices have revolutionized healthcare delivery. However, as these devices become more interconnected with computers and networks, they bring a plethora of opportunities and a host of legal challenges. Consequently, the rise in wearable and medical device use drives litigation and highlights the critical need for expert knowledge and insights. Let's look at the types of disputes trending and the types of experts advantageous for arising conflicts.
Rapid Market Growth Drives Conflicts
According to Market.us, the wearable medical devices market is set to reach $40.7B in 2023 and is forecast to more than triple by 2032 to $156B. The market is characterized by fierce competition as tech giants and start-ups vie for market share. This competitive environment drives innovation and creates conflicts among players. Looking at data from Lex Machina, patent disputes involving wearable and medical devices have increased YOY by over 50% from 2019-2022. And, looking at litigation thus far this year, 2023 is shaping up to continue the upward trend, with 55 patent cases already filed, outpacing 2022's half-year filing rate. Furthermore, contract disputes involving wearable and medical devices have already nearly doubled since last year.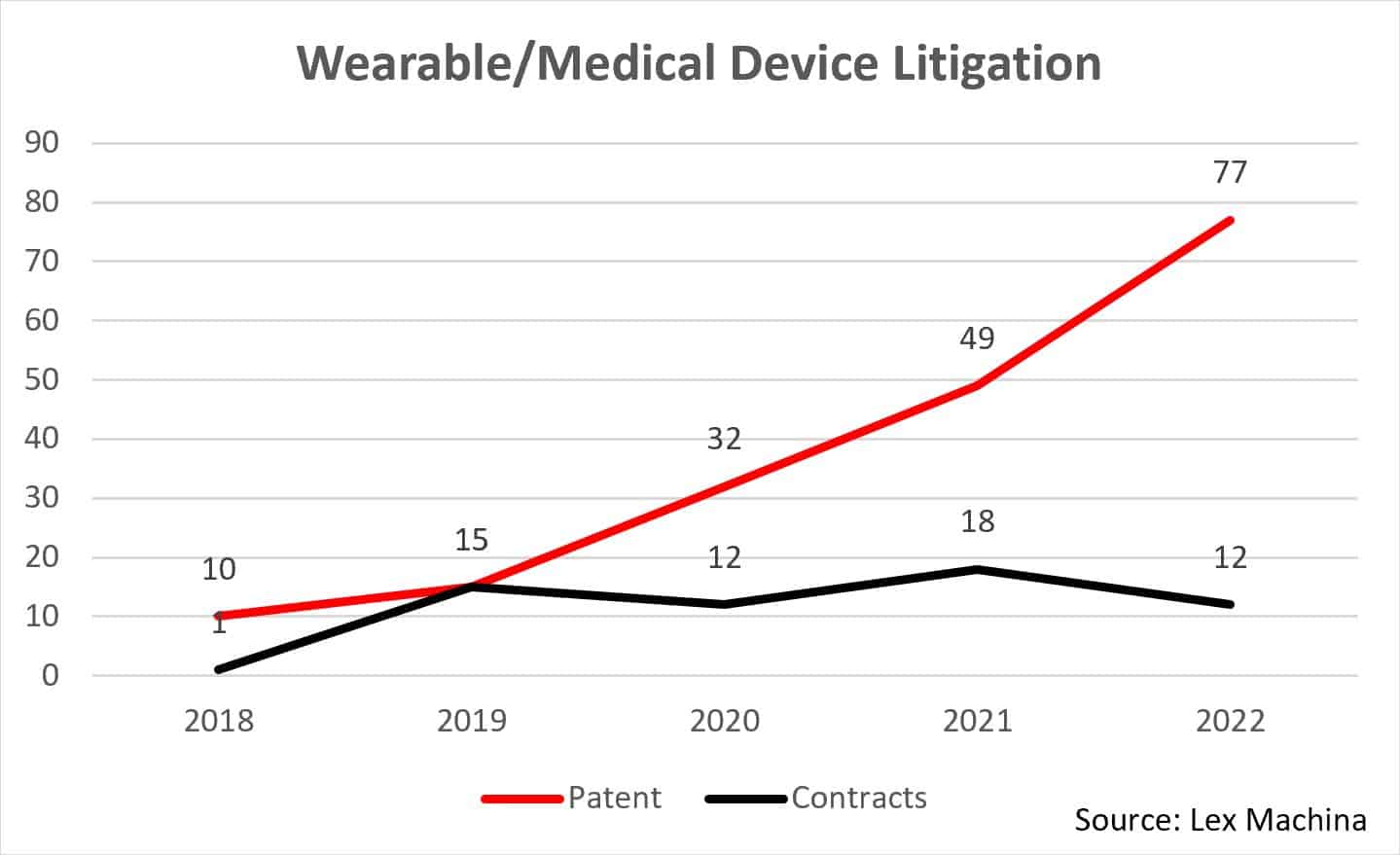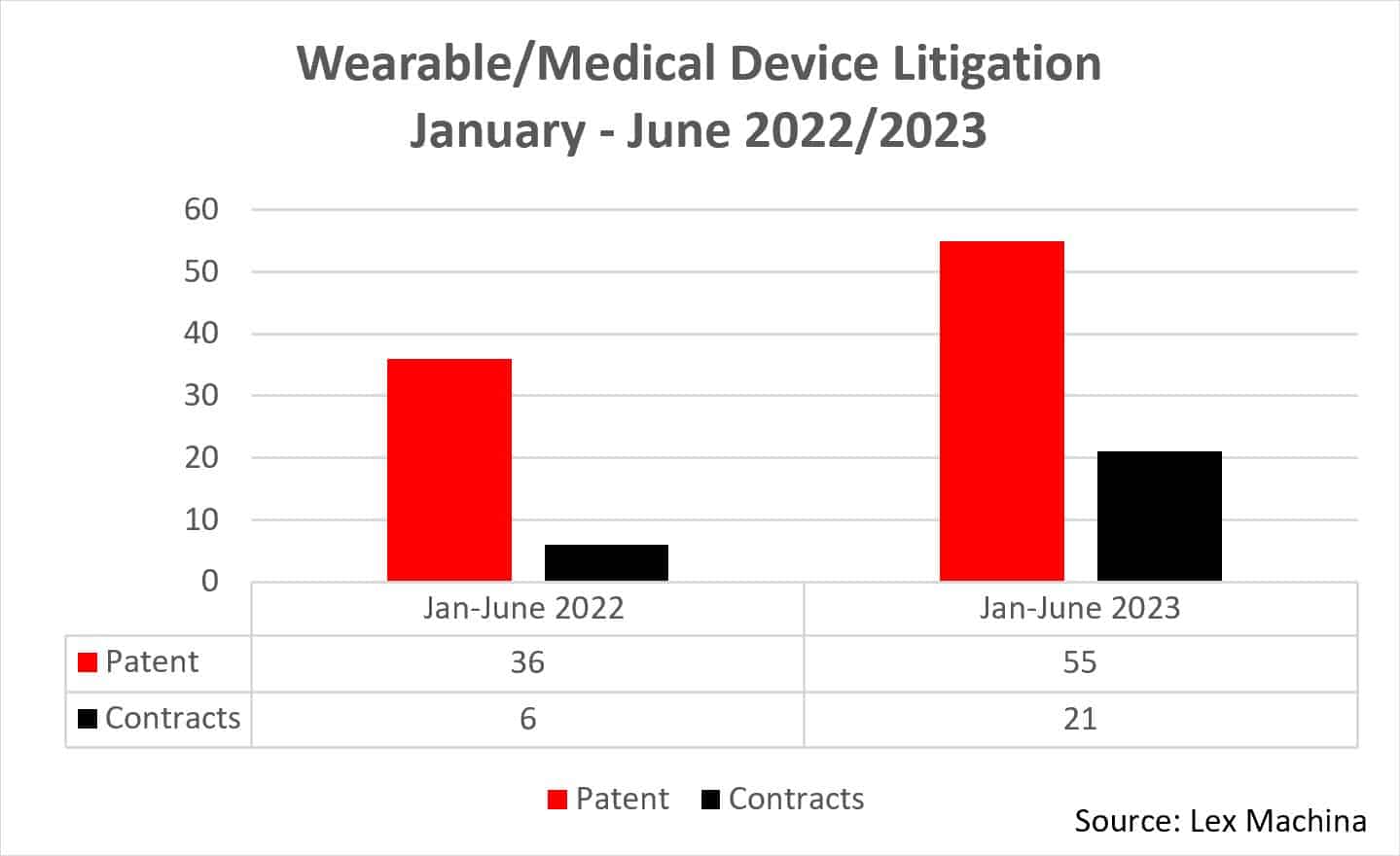 With companies constantly pushing the boundaries of wearable technology, the expertise of technical and industry experts becomes invaluable in cases. Experts who possess a deep understanding of the wearable market landscape, including emerging trends, technological advancements, and competitive dynamics, can provide critical context to attorneys, helping them navigate the complexities of litigation and build stronger cases.
The Proliferation of Wearable Devices Drives Lasting Change
Wearable devices that serve as "point-of-care" tools have revolutionized data gathering for clinics and hospitals. These devices, such as heart monitors, smartwatches and fitness trackers, enable healthcare providers to gather essential patient information more efficiently. By continuously monitoring vital signs, tracking activity levels, and collecting other health-related data, point-of-care wearables offer valuable insights for diagnosis, treatment, and remote patient monitoring.
Likewise, the advent of the Internet of Things (IoT) that supercharged connected medical devices has streamlined and impactfully benefited healthcare delivery, providing seamless data exchange and improved patient care. For example, implantable devices, such as pacemakers and insulin pumps, can now transmit real-time data to healthcare providers for monitoring and adjustment, making remote care more effective, accurate, and reliable.
Lastly, mobility has become a driving force in shaping the demand for healthcare. Patients now expect the same level of access to healthcare as they have for other aspects of their daily lives. The rise of telemedicine and mobile health applications has enabled patients to receive care remotely, access medical information on the go, and interact with healthcare providers through digital platforms. This trend has accelerated the mainstream adoption of connected devices and on-demand care.
Experts Can Help Counsel Navigate this Changing Landscape
In the context of litigation, experts well-versed in the design and performance of these devices can offer crucial guidance. Their expertise can help attorneys understand the technical aspects of point-of-care wearables, evaluate their accuracy and reliability, and assess any potential liability claims related to their use.
The interconnectedness of these devices also presents significant security risks. Vulnerabilities in device software or network infrastructure can expose patients to potential harm, such as unauthorized access to personal health information or malicious manipulation of device functionality. In litigation involving connected medical devices, experts with knowledge of data protection, privacy, and device manufacturing processes can be crucial. These experts can help attorneys navigate the intricate landscape of IoT-connected medical devices, assess the adequacy of security measures, and ensure the safety and integrity of patient data.
Cases arising from the societal shift towards healthcare mobility require industry insiders who can address issues related to distribution and pricing strategies, insurance disputes, labeling, and advertising matters. These experts can analyze pricing and distribution models, evaluate compliance with insurance regulations, and assess the accuracy and transparency of labeling and advertising claims.
Litigation on the Horizon
The increasing significance of wearable and medical devices is undeniable, prompting more innovation and legal challenges. Litigation involving wearable devices includes patent disputes, product liability claims, and regulatory compliance issues. To successfully navigate these complex cases, attorneys should consult with highly credentialed industry experts and skilled technical experts with specialized knowledge in data protection, device design and performance, device failures, manufacturing processes, and more.
A diverse team of experts could include:
Industry insiders who know the healthcare technology landscape and related regulations and standards
Battery experts with expertise in power management and wireless power transfer
Biomedical engineers knowledgeable about the design, functionality, and performance of wearable and medical devices
Computer scientists in AI, data processing, storage, and security
Medical experts with knowledge about the impact of a wearable device on a user's medical condition
Wireless technology engineers who know device software, wireless networks, and connectivity issues
By leveraging the knowledge and insights of these experts, lawyers can navigate the complexities of wearable and medical device litigation more skillfully and achieve the best possible outcomes for their clients.
Learn more about our teams of healthcare technology experts who are highly credentialled scientists, medical doctors, engineers, industry veterans, and former regulators. Contact us to learn how our testifying experts can support your case.